"Wait!" he says, do I look like a waiter?
Moderator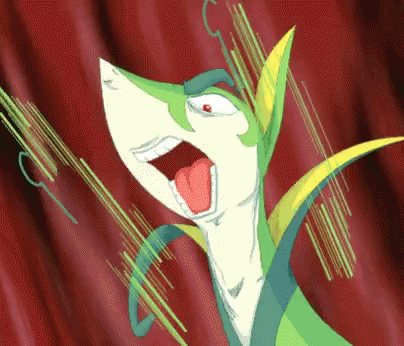 [OVERVIEW]
When it comes to late-game cleaners, Serperior does its job very well thanks to its superior Speed tier and surprisingly solid natural bulk. With said Speed tier, it's able to outspeed and heavily damage many threats in the metagame like Rotom-S, Charizard, and Haunter. It can run a Calm Mind + Substitute set to become a more formidable sweeper. Hidden Power Rock and Ground round out Serperior's coverage quite nicely, hitting Flying- and Poison-types, respectively. Hidden Power Ice can be used to hit Dragon- and Grass-types; however, thet are fairly uncommon and typically not worth the moveslot. Despite all this, Serperior usually needs at least a single Calm Mind to be an effective sweeper due to its subpar Special Attack stat. While it is naturally fast, there are many faster threats that offensively pressure it like Choice Scarf Rotom-F, Swellow, and Floatzel. There's also a multitude of special walls like Miltank, Roselia, and Zweilous to boot that simply laugh at Serperior's attempts to take them down.
[SET]
name: Calm Mind Attacker
move 1: Calm Mind
move 2: Substitute / Taunt
move 3: Giga Drain
move 4: Hidden Power Rock / Hidden Power Ground
item: Life Orb
ability: Overgrow
nature: Timid
evs: 252 SpA / 4 SpD / 252 Spe
[SET COMMENTS]
Set Description
========
Serperior can use Substitute or Taunt to take advantage of passive Pokemon that it checks like Seismitoad and Alomomola. Substitute in particular makes Serperior tougher to revenge kill and allows it to safely fall into Overgrow range. A Calm Mind boost alongside Life Orb will let Serperior's Giga Drain net OHKOs on threats like Samurott, Golurk, and Regirock, as well as neutral Pokemon like Eelektross and Kangaskhan if boosted by Overgrow. Giga Drain often offsets Life Orb recoil and can allow Serperior to use Substitute multiple times. Hidden Power Rock nails Charizard, Braviary, and Rotom-S for super effective damage, while Hidden Power Ground does the same to Poison-types like Garbodor and Skuntank.
Team Options
========
Serperior fits best on balance and bulky offense teams that benefit from an offensive Water-resistand Pokemon. While it is fast, Choice Scarf Pokemon like Primeape, Rotom-S, and Haunter all threaten Serperior with their respective STAB moves and can take an unboosted attack from it. Defensive answers to these threats like Weezing, Camerupt, and Mandibuzz, respectively, are appreciated. Naturally faster threats like Swellow and Floatzel can force Serperior out as well. Physically defensive Pokemon such as Regirock and Alomomola take on Swellow very easily, and the latter can also comfortably switch into Floatzel. Serperior's partners can largely dictate what Hidden Power it runs, as with Hidden Power Rock, having teammates such as Golem, Piloswine, and Seismitoad to dent Poison-types can help Serperior manage without the super effective coverage. If Serperior opts for Hidden Power Ground to snipe Poison-types and stray targets like Camerupt, then Flying-types such as Charizard, Braviary, and Mandibuzz can switch into its Giga Drain very easily, making Electric- and Rock-types like Eelektross and Regirock solid partners. Special walls such as Roselia and Zweilous can almost always take on Serperior but must be wary of the rare Hidden Power Ice, which also hits Flying-types like Mandibuzz. Sap Sipper Miltank is the definition of a hard wall for Serperior, pressuring it even if it's behind a Substitute or Miltank is Taunted. Physical wallbreakers like Sawk and Braviary break through these special walls.
[STRATEGY COMMENTS]
Other Options
=============
Glare is a nice utility option over Substitute or Calm Mind to slow down faster threats. However, more often than not, they generally don't stay in long enough for Serperior to do this, and it also takes away from Serperior's job as a sweeper. Hidden Power Ice can be used to check the niche Dragon- and Grass-types that can otherwise give Serperior trouble. Knock Off can be used to remove Eviolite and Leftovers from common checks, annoying even hard stops such as Miltank. Substitute paired with Leech Seed can be used in favor of Hidden Power to chip down all of Poison-, Fire-, and Flying-types.
Checks and Counters
===================
**Poison-types**: If Serperior is carrying Hidden Power Rock, Garbodor and Skuntank are just a couple of threats that don't fear it much due to the small amount of damage Hidden Power Rock does. Weezing can take on Serperior comfortably regardless of the Hidden Power.
**Flying-types**: Should Serperior be running Hidden Power Ground, foes like Charizard, Braviary, Mandibuzz, and Rotom-S can all comfortably switch into it without fear.
**Special Walls**: Regice, Roselia, Miltank, and Zweilous get tickled at best from any of Serperior's attacks while also being able to pressure it offensively.
[CREDITS]
- Written by: [[Oathkeeper, 83980]]
- Quality checked by: [[Togkey, 400664]]
- Grammar checked by: [[royalfluxh, 493260], [autumn, 384270]]
Last edited: